President Donald Trump gave governors a road map Thursday for recovering from the economic pain of the coronavirus pandemic, laying out "a phased and deliberate approach" to restoring normal activity in places that have strong testing and are seeing a decrease in COVID-19 cases.
"We're starting our life again," Trump said during his daily press briefing. He said that we have passed the peak in new cases and "we're starting rejuvenation of our economy again."
He added, "This is a gradual process."
The President announced that based on the best science, he has provided guidance to America's Governors to rely on each state's ability to reignite the economies in their respective States.  The dialogue between the President, senior Administration officials, and the bipartisan group of Members of Congress also included a range of topics, namely the need for additional funding for the Paycheck Protection Program, the international and domestic supply chains, ways to energize the economy, surprise medical billing, clarifying the difference between essential and non-essential workers, mental health, and relief for small businesses.
Shortly after, Governor Ducey tweeted this: Had a productive call with @POTUS, @VP and fellow governors to discuss guidelines for reopening the nation when it's safe and Arizona's partnership with @uarizona to provide antibody testing for 250,000 medical professionals and first responders. #COVID19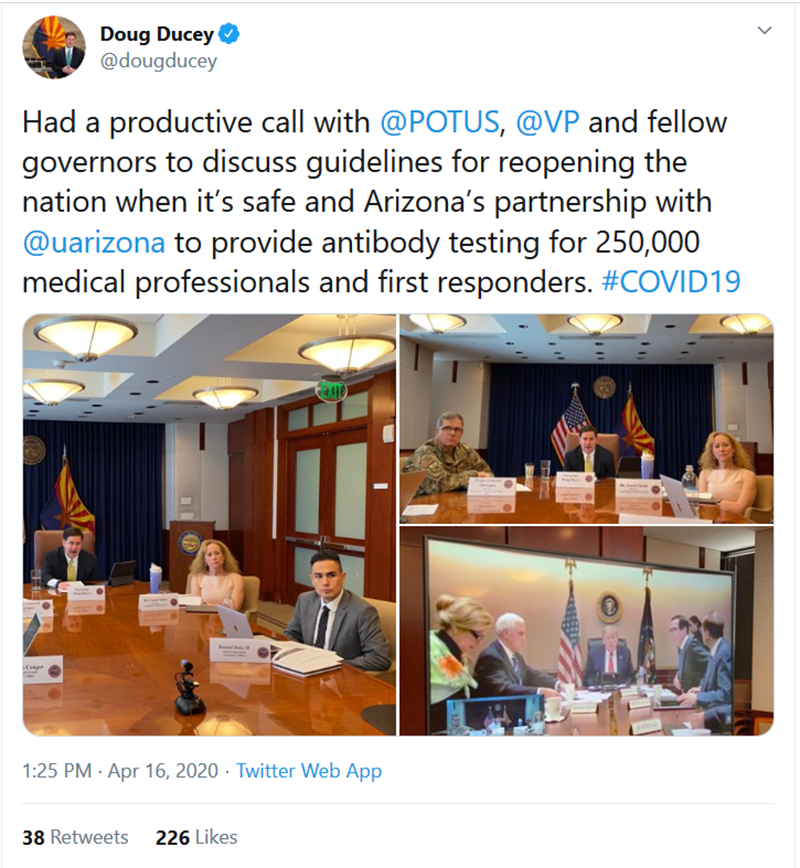 "Twenty-four percent of the counties of this country have no reported coronavirus cases. In fact, half of the states in America have less than 2,500 cases per state," Pence said. "We are going to reflect on the fact that there will be areas of the country that will require continued mitigation, strong efforts, and there will be other areas of the country that will be given guidance for greater flexibility."
Arizona is not one of these states however, where cases of COVID-19, the disease caused by the new coronavirus, now exceeds 4,200, with 150 known deaths, according to new numbers released Thursday by the Arizona Department of Health Services. Arizona's total identified cases rose to 4,234, according to the most recent state figures. That's an increase of 272 confirmed cases, or 6.9%, since Wednesday, when the state reported 3,962 identified cases and 142 deaths.
Thursday at the Press Briefing, President Trump had this to say: BASED ON THE LATEST DATA, OUR TEAM OF EXPERTS AGREE WE CAN START THE NEXT FRONT WHICH WE ARE CALLING "OPENING UP AMERICA AGAIN." AND THAT IS WHAT WE ARE DOING. OPENING UP OUR COUNTRY. AND WE HAVE TO DO THAT. AMERICA WANTS TO BE OPEN. AND AMERICANS WANT TO BE OPEN. AS I HAVE SAID FOR SOME TIME NOW, A NATIONAL SHUTDOWN IS NOT A SUSTAINABLE LONG-TERM SOLUTION. TO PRESERVE THE HEALTH OF OUR CITIZENS, WE MUST ALSO PRESERVE THE HEALTH AND FUNCTIONING OF OUR ECONOMY. OVER THE LONG HAUL, YOU CANNOT DO ONE WITHOUT THE OTHER. IT CANNOT BE DONE. TO KEEP VITAL SUPPLY CHAINS RUNNING, THE CHAINS HAVE TO BE TAKEN CARE OF SO DELICATELY. THEY ARE DELICATE. THEIR BALANCE IS DELICATE. WE WANT TO DELIVER FOOD AND MEDICAL SUPPLIES AND YOU MUST HAVE A WORKING ECONOMY. AND WE WANT TO GET IT BACK, VERY , VERY QUICKLY. AND THAT IS WHAT IS GOING TO HAPPEN. I BELIEVE IT WILL BOOM.

A PROLONGED LOCKDOWN COMBINED WITH AN ECONOMIC DEPRESSION WILL HAVE INFLICTED A WIDE RANGING TOLL ON HEALTH INCLUDING DRUG ABUSE, ALCOHOL ABUSE, SUICIDE, HEART DISEASE, AND MANY OTHER DIMENSIONS OF PHYSICAL AND MENTAL WELL-BEING. MOREOVER, MANY PATIENTS HAVE PUT NEEDED MEDICAL CARE ON HOLD CREATING ENTIRELY NEW HAZARDS FOR PUBLIC HEALTH. OUR COUNTRY HAS SUFFERED.

THE WORLD HAS SUFFERED. 184 OTHER COUNTRIES HAVE SUFFERED. ISSUING NEW FEDERAL GUIDELINES THAT WILL ALLOW GOVERNORS TO TAKE A PHASED AND DELIVERED APPROACH TO REOPENING THEIR INDIVIDUAL STATES. I HAVE DEALT WITH THEM NOW A LONG TIME. AND WE HAVE HAD A GREAT RELATIONSHIP. DEMOCRAT, REPUBLICAN, THE REPUBLIC — THE RELATIONSHIP HAS BEEN GOOD. THIS STRATEGY IS BASED ON HARD, VERIFIABLE DATA. I WANT TO THANK DR. BIRX FOR HER INCREDIBLE LEADERSHIP AND DRAFTING THESE GUIDELINES IN CONSULTATION WITH SCIENTISTS, EXPERTS, AND MEDICAL PROFESSIONALS ACROSS GOVERNMENT. 

WE TOOK THE GREATEST ECONOMY IN THE HISTORY OF THE WORLD AND WE CLOSED IT IN ORDER TO WIN THIS WAR AND WE ARE IN THE PROCESS OF WINNING IT NOW. OUR APPROACH OUTLINES THREE PHASES IN RESTORING OUR ECONOMIC LIFE AND WE ARE NOT OPENING ALL AT ONCE. BUT ONE CAREFUL STEP AT A TIME. IN SOME STATES, WE WILL BE ABLE TO OPEN UP SOONER THAN OTHER STATES. SOME STATES ARE NOT IN THE KIND OF TROUBLE THAT OTHERS ARE IN. NOW THAT WE HAVE PASSED THE PEAK IN NEW CASES, WE ARE STARTING OUR LIFE AGAIN. WE ARE STARTING REJUVENATION OF OUR ECONOMY AGAIN. IN A SAFE AND STRUCTURED AND A VERY RESPONSIBLE FASHION. OUR STRATEGY WILL CONTINUE TO PROTECT SENIOR CITIZENS AND OTHER VULNERABLE POPULATIONS WHILE ALLOWING MILITARY AND OTHER GROUPS OF INCREDIBLY TALENTED PEOPLE TO GO ABOUT THEIR REAL BUSINESS.

HEALTHY AMERICANS WILL NOW BE ABLE TO RETURN TO WORK AS CONDITIONS ON THE GROUND ALLOW. INSTEAD OF A BLANKET SHUTDOWN, WE WILL PURSUE A FOCUS ON SHELTERING THE HIGHEST RISK INDIVIDUALS. SO IMPORTANT. WE ARE ESTABLISHING CLEAR, SCIENTIFIC METRICS AND BENCHMARKS ON TESTING. NEW CASE GROWTH AND HOSPITAL CAPACITY THAT MUST BE MET BEFORE ADVANCING TO EACH PHASE. AND THAT IS EACH PHASE SPECIFICALLY IN THE REOPENING OF OUR COUNTRY. THIS IS A GRADUAL PROCESS AS THE CASELOAD IN A STATE CONTINUES TO GO DOWN, RESTRICTIONS CAN CONTINUE TO BE EASED AND COME OFF.

THROUGH THE PROCESS, CITIZENS WILL BE CALLED UPON TO USE ALL OF THEIR WEAPONS IN THIS WAR. VIGOROUS HYGIENE. TELEWORKING WHEN POSSIBLE. STAYING AT HOME IF YOU FEEL SICK. MAINTAINING SOCIAL DISTANCE. SANITIZING COMMONLY USED SERVICES. AND BEING HIGHLY CONSCIOUS OF THEIR SURROUNDINGS. THOSE ARE OUR WEAPONS AND THEY ARE VERY POWERFUL WEAPONS INDEED. GOVERNORS WILL BE EMPOWERED TO TAILOR AN APPROACH THAT NEEDS THE DIVERSE CIRCUMSTANCES OF THEIR OWN STATES. EVERY STATE IS VERY DIFFERENT.

THEY ARE ALL BEAUTIFUL. WE LOVE THEM ALL. BUT THEY ARE ALL VERY DIFFERENT. IF THEY NEED TO REMAIN CLOSED, WE WILL ALLOW THEM TO DO THAT AND IF THEY BELIEVE IT IS TIME TO REOPEN, WE WILL PROVIDE THEM THE FREEDOM AND GUIDANCE TO ACCOMPLISH THAT TASK AND VERY, VERY QUICKLY. DEPENDING ON WHAT THEY WANT TO DO.

WE ARE ALSO ENCOURAGING STATES TO WORK TOGETHER TO HARMONIZE THEIR REGIONAL EFFORTS. WE WILL HAVE NUMEROUS CASES WHERE STATES HAVE WORKED AND WILL BE WORKING VERY, VERY CLOSELY TOGETHER. AS WE REOPEN, WE KNOW THERE WILL BE CONTINUED HARDSHIPS AND CHALLENGES AHEAD. OUR GOAL WILL BE TO QUICKLY IDENTIFY AND ADDRESS ANY OUTBREAKS AND PUT THEM OUT RAPIDLY. IF THE VIRUS RETURNS IN THE FALL , AS SOME SCIENTISTS THINK IT MAY, POSSIBLY, THESE GUIDELINES WILL ENSURE THAT OUR COUNTRY IS UP AND RUNNING SO THAT WE CAN LIKEWISE PUT IT OUT QUICKLY. AT THE HEART OF OUR STRATEGY IS THE VITAL ROLE OF MEDICAL RESEARCH ESPECIALLY FOR THERAPIES THAT WILL SIGNIFICANTLY IMPROVE OUTCOMES FOR HIGH-RISK PATIENTS AND REDUCE THE NEED FOR URGING CARE. THIS WILL BE TREMENDOUS — FOR URGENT CARE. THIS WILL BE TREMENDOUSLY VALUABLE IN ALLOWING LIFE TO RETURN TO NORMAL.

MANY TRIALS ARE UNDERWAY INCLUDING AUTOIMMUNE THERAPIES IN THE FORM OF CONVALESCENT PLASMA. YOU HAVE ALL HEARD ABOUT SOME OF THESE EVENTS AND SOME OF THESE THERAPIES. THEY HAVE COME A LONG WAY. WHAT HAS BEEN DONE IN THE LAST WATCHER WEEKS IS INCREDIBLE. — FOUR WEEKS IS INCREDIBLE. WE WILL ALSO EXPAND OUR TESTING CAPACITY. WE HAVE NOW COMPLETED 3.5 MILLION TEST, BY FAR THE MOST ANYWHERE IN THE WORLD.

WE WILL CONTINUE TO WORK WITH GOVERNORS TO ADVISE THEM ON HOW TO CONDUCT BOTH SURVEILLANCE AND DIAGNOSTIC TESTING. I HAVE NOW DISTRIBUTED MORE THAN 600,000 POINT OF CARE DIAGNOSTIC TESTS. THESE ARE TESTS DONE ON SITE AND WITHIN FIVE MINUTES YOU KNOW THE ANSWER. POSITIVE OR NEGATIVE. IN RECENT DAYS, WE HAVE SEEN A DRAMATIC INCREASE IN THE NUMBER OF TESTS PERFORMED BY HOSPITALS AND — TESTS REPORTED IN A SINGLE DAY. FAR MORE THAN ANY COUNTRY IN THE WORLD HAS EVER BEEN ABLE TO DO. AND OUR NUMBERS ARE ACTUALLY GOING UP.

AS THESE NEW AND BETTER TESTING SOLUTIONS COME ONLINE, WE ARE SEEING THIS ADDITIONAL CAPACITY REFLECTED IN THE NUMBERS. FOR THIS REASON, THE NUMBER OF TESTS PROCESSED IN COMMERCIAL LABORATORIES HAS DROPPED FROM APPROXIMATELY 100,000 TO 75,000 TESTS LAST WEEK. THE REASON IT DROPPED IS BECAUSE WE HAVE SO MANY OTHER TESTS AND WE DO NOT NEED TO GO THROUGH THE LABORATORIES.

LABORATORIES HAVE ADDITIONAL CAPACITY AND STATES FEEL FREE TO USE THAT CAPACITY. SOME IN THE MEDIA FALSELY REPORTED THIS AS A BAD THING, WHEN IN FACT IT IS A GREAT THING BECAUSE IT INDICATES THAT THE STATES ARE MOVING TO FASTER, MORE LOCAL TESTING SOLUTIONS INCLUDING ON THE SPOT TESTS. THE DROP IN THE UTILIZATION OF COMMERCIAL LABORATORIES IS AN AFFIRMATION THAT TESTING, WHICH IS AT AN ALL-TIME HIGH, IS GROWING AT A HISTORIC RATE.

IN OTHER WORDS, THE LABORATORIES ARE GREAT BUT NOW, WE HAVE FORMS OF TESTING THAT ARE MUCH QUICKER, MUCH BETTER, AND WE DON'T HAVE TO USE THE LABORATORIES. AS DR. BIRX HAS BEEN ADVISING OUR GOVERNORS FOR WEEKS, WE CONTINUE TO HAVE ACCESS IN THE CAPACITY OF OUR TESTING AND OUR CAPABILITIES ARE GROWING EVERY DAY ESPECIALLY WITH THE NEW TEST COMING ONTO THE MARKET RAPIDLY.

AS WE BEGIN A SCIENCE-BASED REOPENING, WE MUST BE EXTRA VIGILANT IN BLOCKING THE FOREIGN ENTRY OF THE VIRUS FROM ABROAD. BORDER CONTROL, TRAVEL RESTRICTIONS, AND OTHER LIMITATIONS ON ENTRY ARE MORE IMPORTANT THAN EVER TO KEEP THE VIRUS THEN CHECK AND ALLOW AMERICANS TO GET BACK TO WORK. THE SACRIFICES OUR CITIZENS HAVE MADE IN THIS TIME OF CRISIS WILL BE REMEMBERED, STUDIED, HONORED, AND PRAISED FOR GENERATIONS TO COME. WE REALLY ARE ALL WORKING TOGETHER. DEMOCRAT, REPUBLICAN, CONSERVATIVE, LIBERAL — ALL WORKING TOGETHER. THIS IS NOT ABOUT PARTIES. THIS IS ABOUT OUR COUNTRY. NOW, THE AMERICAN PEOPLE ARE READY TO RISE TO THE OCCASION ONCE AGAIN. THEY ARE READY TO SHOW THE WORLD ONCE MORE THAT AMERICANS CAN DEFEAT ANY CHALLENGER. TOGETHER, WE WILL REBUILD THIS LAND THAT WE LOVE. WE WILL RECLAIM THE MAGNIFICENT DESTINY THAT WE SHARE AND WE WILL CARRY OUR NATION FORWARD TO NEW HEIGHTS OF GREATNESS.

(Transcript from video closed caption)
Click here for Trump's State Reopen Guidelines
Additionally, the Opening Up America Again Congressional Group discussed the rapidly expanding access to COVID-19 diagnostic and antibody tests, ventilators, face masks, and other PPE.
The following Members of Congress serve on the Opening Up America Again Congressional Group:
Members of the United States House of Representatives
Leader Kevin McCarthy, R-CA
Representative Andy Biggs, R-AZ
Representative Kevin Brady, R-TX
Representative Susan Brooks, R-IN
Representative Steve Chabot, R-OH
Representative Liz Cheney, R-WY
Representative Henry Cuellar, D-TX
Representative Warren Davidson, R-OH
Representative Rodney Davis, R-IL
Representative Ted Deutch, D-FL
Representative Marcia Fudge, D-OH
Representative Matt Gaetz, R-FL
Representative Anthony Gonzalez, R-OH
Representative Josh Gottheimer, D-NJ
Representative Kay Granger, R-TX
Representative French Hill, R-AR
Representative Mike Johnson, R-LA
Representative Jim Jordan, R-OH
Representative John Katko, R-NY
Representative Ro Khanna, D-CA
Representative Derek Kilmer, D-WA
Representative John Larson, D-CT
Representative Billy Long, R-MO
Representative Blaine Luetkemeyer, R-MO
Representative Patrick McHenry, R-NC
Representative Stephanie Murphy, D-FL
Representative Jimmy Panetta, D-CA
Representative Steve Scalise, R-LA
Representative Elise Stefanik, R-NY
Representative Tom Suozzi, D-NY
Representative Greg Walden, R-OR
Representative Lee Zeldin, R-NY
Members of the United States Senate
Leader Mitch McConnell, R-KY
Senator Lamar Alexander, R-TN
Senator John Barrasso, R-WY
Senator Marsha Blackburn, R-TN
Senator Roy Blunt, R-MO
Senator John Boozman, R-AR
Senator Mike Braun, R-IN
Senator Richard Burr, R-NC
Senator Shelley Moore Capito, R-WV
Senator Tom Carper, D-DE
Senator Bill Cassidy, R-LA
Senator Susan Collins, R-ME
Senator John Cornyn, R-TX
Senator Tom Cotton, R-AR
Senator Kevin Cramer, R-ND
Senator Mike Crapo, R-ID
Senator Ted Cruz, R-TX
Senator Steve Daines, R-MT
Senator Tammy Duckworth, D-IL
Senator Dick Durbin, D-IL
Senator Michael Enzi, R-WY
Senator Joni Ernst, R-IA
Senator Dianne Feinstein, D-CA
Senator Deb Fischer, R-NE
Senator Cory Gardner, R-CO
Senator Lindsey Graham, R-SC
Senator Chuck Grassley, R-IA
Senator Maggie Hassan, D-NH
Senator Josh Hawley, R-MO
Senator Martin Heinrich, D-NM
Senator John Hoeven, R-ND
Senator Cindy Hyde-Smith, R-MS
Senator James Inhofe, R-OK
Senator Ron Johnson, R-WI
Senator John Kennedy, R-LA
Senator Angus King, Jr., I-ME
Senator Amy Klobuchar, D-MN
Senator James Lankford, R-OK
Senator Patrick Leahy, D-VT
Senator Mike Lee, R-UT
Senator Kelly Loeffler, R-GA
Senator Martha McSally, R-AZ
Senator Jerry Moran, R-KS
Senator Lisa Murkowski, R-AK
Senator Rand Paul, R-KY
Senator David Perdue, R-GA
Senator Rob Portman, R-OH
Senator James Risch, R-ID
Senator Pat Roberts, R-KS
Senator Jacky Rosen, D-NV
Senator Mike Rounds, R-SD
Senator Marco Rubio, R-FL
Senator Ben Sasse, R-NE
Senator Rick Scott, R-FL
Senator Tim Scott, R-SC
Senator Richard Shelby, R-AL
Senator Kyrsten Sinema, D-AZ
Senator Dan Sullivan, R-AK
Senator John Thune, R-SD
Senator Thom Tillis, R-NC
Senator Pat Toomey, R-PA
Senator Mark Warner, D-VA
Senator Sheldon Whitehouse, D-RI
Senator Roger Wicker, R-MS
Senator Todd Young, R-IN